NEXT GENERATION RACING CAR
PEUGEOT unveils the prototype of the Hypercar 9X8, its next-generation racing car, which will begin in 2022 in the FIA World Endurance Championship (WEC). The PEUGEOT 9X8 is a highly efficient, hybrid-powered vehicle with a full transmission system and is part of the Neo-Performance strategy developed by PEUGEOT, which aims to deliver a more virtuous and responsible performance on both production and competitive vehicles. A new convergence of the work of the PEUGEOT Sport engineering team and the PEUGEOT Design team was implemented to give birth to 9X8. It is after intense months of working together that the development engineers under the responsibility of Olivier Jansonnie, technical director of PEUGEOT Sport, and the designers led by Matthias Hossann, director of PEUGEOT Design, reveal the main lines and the aerodynamic concept of this PEUGEOT 9X8.
LMH REGULATIONS
The PEUGEOT 9X8 will follow in the footsteps of the brand's famous endurance models, the PEUGEOT 905 and PEUGEOT 908, winners of the 24 Hours of Le Mans in 1992 and 1993, and in 2009 respectively. With the 9X8, Peugeot is rolling out a genuine brand project based on the concept of Neo-Performance, combining the ultimate in sports performance, technological know-how that can be transferred to production models, efficiency and design excellence.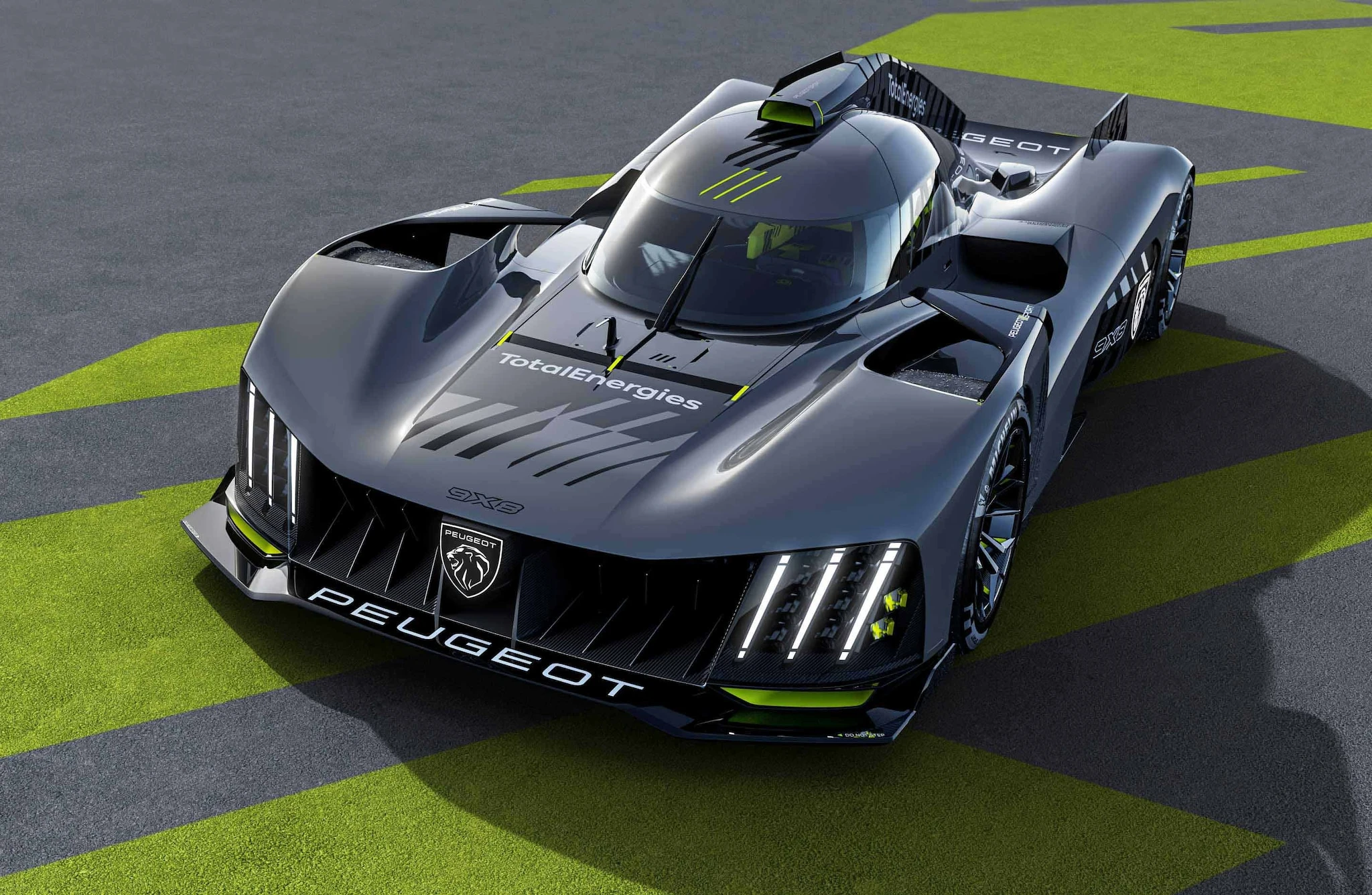 9X8
As regards its name, the first 9 represents the Brand's extreme racing cars, such as PEUGEOT's Endurance models, the 905 (1990-1993) and the 908 (2007-2011), two of the manufacturer's iconic machines. The X evokes the all-wheel drive (four-wheel drive) and hybrid power technologies that feature on the new PEUGEOT Hypercar, which sees the Brand's electrification strategy extended further in a racing setting. As regards the 8, this is the figure that is ever-present on all contemporary PEUGEOT models: the 208 and 2008, 308, 3008, 5008 and of course the 508, which has recently passed through the hands of the same team of engineers and designers as the Hypercar, to become the first model to bear the PEUGEOT SPORT ENGINEERED label.
BREATHTAKING STYLE. NO WING!
At the rear of the PEUGEOT 9X8, carefully chiselled elements house the three claws of the rear lights, surrounding a wide diffuser, overhung by the playful wording: "We need no rear wing."